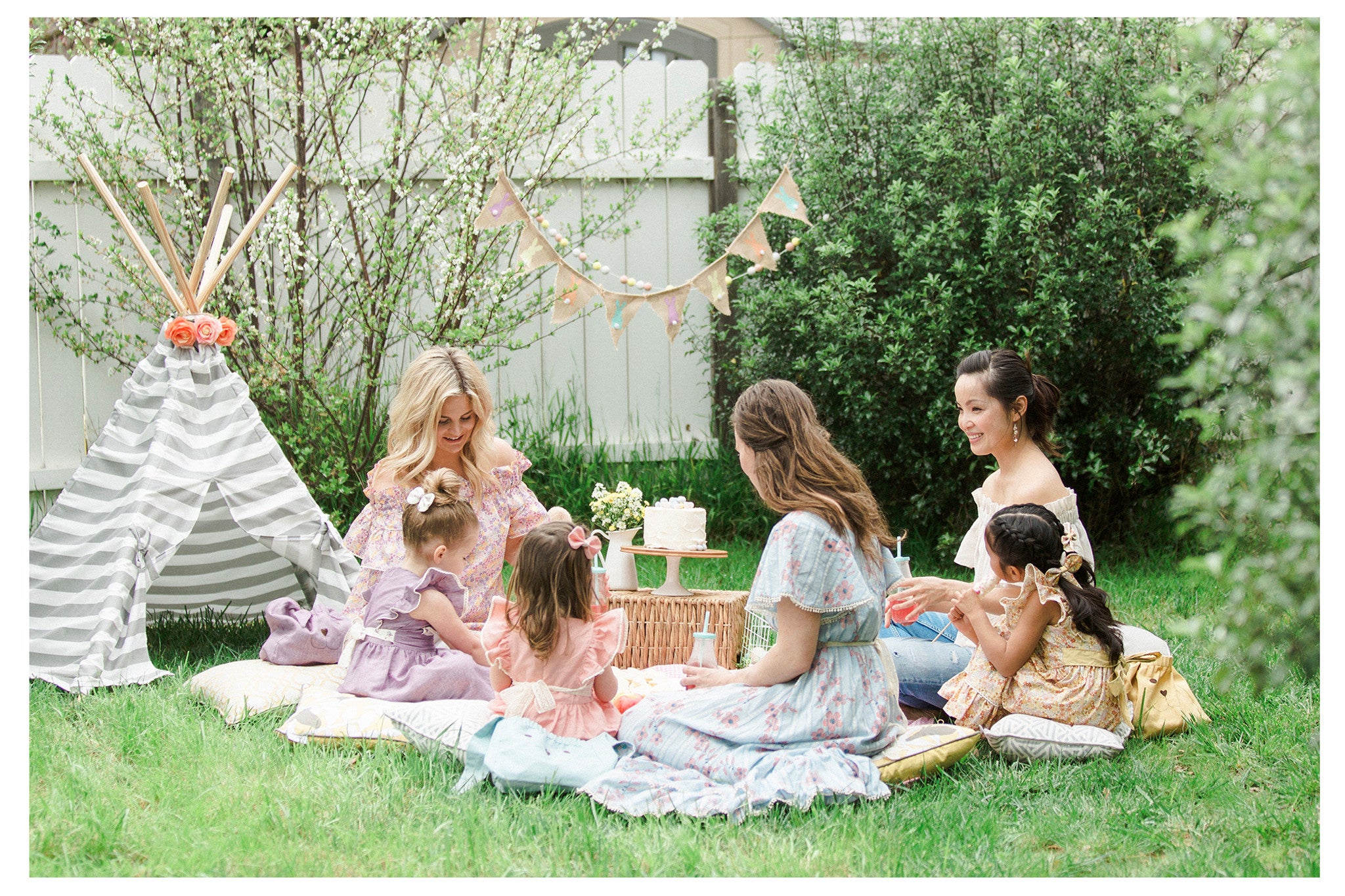 Easter Picnic Ele Story style (plus a BIG GIVEAWAY)!
The beautiful Spring weather has us all eager to be outdoors again, and with Easter coming up, we thought it would be fun to have a little backyard picnic with a couple of mommy friends and their littles -- it was such an intimate and cute picnic, and so much fun to put together with every mama making a little treat or two to share.  June had a great time with her little friends, and us moms got to relax a bit too and hang out. :)  A win-win! 

Thankfully, these sweet mama friends I have (Vanessa @elyse_and_aurora and Kelsey @hammond.avenue) happen to be amazing bakers and cooks as well, so they pretty much nailed most of the picnic treats, and I brought most of the non-edibles haha, and pink lemonade for the kiddos.  Read on -- these mamas graciously share their recipes with you all as well!  Yum!
We kept it simple and had four prepared picnic treats: 1) Kelsey's Easter Mallows, 2) Vanessa's Cookie basket treats, and she also kindly saved me from a potential baking disaster by offering to make 3) a gorgeous Easter Cake in two frosting colors inside!  4) my lovely assistant Polly found the cutest bunny cookie cutter and made an egg salad sandwich that was super delicious! 
I brought all the healthy stuff, of course haha:  lemonade, assorted fruits, and Ele Story dresses and tops for all the ladies LOL. ;)
 
1) Here's a quick and easy recipe for Kelsey's very own Easter Mallows.  For the extended version and her cutest commentary, go here. 
Ingredients:
1 package of marshmallows
1 package of white bakers chocolate
1 package of Werther's chewy caramels
1 package of skewers
sprinkles
sea salt (optional)
Directions:
Load three marshmallows to about 8-10 skewers and set aside. Unwrap 15 caramels and put them in a microwave safe bowl and heat for 20 seconds and set aside (you may repeat this step if you run out of caramel). Next, break up your white chocolate into a microwave safe bowl, and warm it in the microwave for 30 seconds (more if needed) to melt it completely and set a aside. Make an assembly line of skewers, caramel, and chocolate, with a cookie sheet lined with parchments paper at the end. Grab your first skewer, and with a spoon, cover your marshmallows with an even coating of caramel. Then do the same with the white chocolate (using a separate spoon!). Let the access chocolate drip off in the bowl before placing it on your cookie sheet. Once it's on the cookie sheet, add your sprinkles to the outside of the chocolate and if you decide to use your sea salt, just a pinch is all you'll need. Continue with the rest of your skewers. Put in the fridge to fully harden. Enjoy!
Here's a BACK shot of June enjoying her Easter Mallows, as if saying, "Don't bother me, I'm having my Mallow moment."  Believe me, they were good - she probably ate two too many, as evident in her sugar high behavior just half an hour later.  : p
Vanessa made the yummiest cookie baskets covered with Cadbury egg chocolates that Kelsey & Teal are enjoying very much here!  Here's how to make them:

Cookie Baskets with Chocolate Eggs:
Makes 12 baskets

Ingredients:
3 cups plus 2 tablespoons all purpose flour
1 tsp baking powder
¼ tsp baking soda
1 ½ tsp kosher salt
1 cup unsalted butter, cold and cut into cubes
¾ cup + 4 teaspoons (6 ounces) light or dark brown sugar
½ cup granulated sugar
2 eggs, cold, lightly beaten in a separate bowl
1 tsp vanilla extract
2 cups dark chocolate chips
1 muffin tin

Directions:
Cookies
Line a large baking sheet with a silicon mat or parchment paper. Set aside. In a medium bowl, mix together the flour, baking soda, powder, and salt. Set aside. In a standing mixer fitted with a paddle attachment, beat the butter until it comes together in one lump, about 1 minute. Add in the sugars and beat for another 1-2 minutes, or until the sugar dissolves into the butter. Lower the speed to medium-low, and mix in the eggs and vanilla and beat until mixed (the batter will be lumpy). Gradually add in the flour mixture, beating until a little flour remains. Fold in the chocolate chips with a rubber spatula.

Grease your mini muffin tin. Grab 1-2 Tablespoons of dough. Shape the dough roughly into a ball, but do not roll it. Place in the prepared baking sheet, and slightly press into place. Refrigerate for at least 30 minutes but up to 12 hours before baking. Preheat oven to 350°F. Bake cookies for 8-12 minutes, until light golden brown. When in doubt, take your cookies out early.
Frosting

- 1 stick softened butter
Mix all in a mixer (adding a tiny more milk or a tiny more powdered sugar to achieve consistency)  Add food coloring of your choice.
Pipe your frosting into your cookie cups and top with Cadbury mini eggs!   Enjoy!!!
And, alas -- our beautiful cake was not only good to look at, but SUPER moist and delicious as well. 
3) Easter Cake!  (It really does look as amazing as it tastes!)
Ingredients & materials:
3 6" pans if they want to make the same cake, or two 9" round pans would work too!
4 eggs
2 1/2 cups (625 mL) all-purpose flour
1 cup (250 mL) milk
3/4 cup (175 mL) vegetable oil
2 1/4 teaspoons (11 mL) baking powder
1 teaspoon (5 mL) vanilla

Directions:

Preheat oven to 350 degrees F (180 degrees C). Line round cake pans with parchment paper. Grease the paper and the sides of the pan well. In a large mixing bowl, with an electric mixer, beat sugar and eggs together until slightly thickened, about 1 minute. Add flour, milk, oil, baking powder, and vanilla and beat for another minute, just until the batter is smooth and creamy. Don't overbeat.
Pour batter into the prepared baking pan(s). Bake in preheated oven for 30 to 40 minutes or until the tops are golden and a toothpick poked into the center of the layer comes out clean.  Loosen the sides of the cake from the pan with a thin knife, then turn out onto a rack and peel off the paper.  Let cool completely before covering with frosting.  We added two different colors of frosting between the layers, and even had some leftover Cadbury eggs to top it all off!

Enjoy and just remember to SHARE. hahaha. 

Last on our list is our tasty Egg and Cucumber Bunny Sandwiches!  Super easy to make:
Ingredients:
8 eggs, hard boiled
a little mayonnaise
1 cucumber
dash of salt & pepper to season
sliced bread
Directions:
Chop the hard boiled eggs into chunks, add a little mayonnaise and chopped cucumber bits.  Season with salt & pepper.  Assemble sandwiches and cut with bunny cookie cutter for a nice festive Easter picnic!  Enjoy!

After we all had more than enough to eat, the kiddos were eager to run around, and we mamas were happy for them to burn off some of that sugar.  So an Easter egg hunt began.  Our talented assistant Polly had handmade three Easter bags which coordinate the girls' dresses perfectly (psssst...which we are also giving away!) for the kiddos. 

And can we just talk about the super cute but simple decor and our outfits?  We literally had a few things already and just pulled them all together to make the cutest backyard picnic ever!

Outifts:
• For the girls: Ele Story flutter dresses (Teal is wearing Lavender Linen, Elyse is wearing Blush linen, and June wore both the French White linen dress and the Yellow Bouquet)
• The sweetest bunny headbands @jldesigns_sale.
• For the Mommies:  Kelsey is in our Off-the-Shoulder blouse in Pink Bouquet, Vanessa is in our Prairie Dress in Blue Blossom, and I'm wearing our Off-the-Shoulder blouse in Yellow Bouquet as well as an Ivory Embroidered blouse that is coming hopefully this summer! (tease tease)



(Here, baby Aurora made a special appearance too.  Look how happy she is to be a part of the fun!)
Decor:
• The softest blanket @henryandbros to have our picnic on! 
• Teepee: Vanessa had the cutest teepee from @littlefootclothingco that became a hiding place for the kiddos' egg hunt after the picnic
• A basket we had turned upside down served as our cake table
• Flower vase from IKEA & fresh flowers from Whole Foods
• Burlap bunny banner from Target
• Felt ball garland @hellomaypole
• Cake stand from Marshall's
• Milk jug for drinks from Target (I highly recommend these because even when they tipped over on the picnic blanket they did not spill like an open container would)
• Pillows (one of which I made) we had already provided extra seating
• paper plates & napkins from Michael's Arts & Crafts
• pastel eggs from Michael's Arts & Crafts
• serving platters we had
Special thanks to our gracious hosts Vanessa & her family & Jenny Soi Photography for capturing it all.  And my assistant Polly for the lovely arrangement!

We had a truly amazing time.  If you were looking for a fun play date outdoors, without a ton of work, definitely try a simple backyard picnic!  And be sure to tag us #EleStoryFun or #EleStoryDIY so we can see your version of a backyard picnic and the food you make! 

And since you made it all the way to the end of this epic long blog, you now get to enter into our BIG Giveaway via Instagram)! 
Ele Story turns 4 this month!  So from Saturday 4/1 ~  Monday 4/3, we have teamed up with @jldesigns_sale and @henryandbros to give away to THREE lucky winners the following:
1) A Ele Story handmade bunny bags coordinating dress of our choice
2) A JLdesigns_sale bunny headband (shown here)
3) A Henryandbros travel blanket or a baby sleep sack
Winners will be announced Monday evening by Ele Story. 
Thanks so much for reading!  Have a blessed Easter season!
xoxo,
Judy