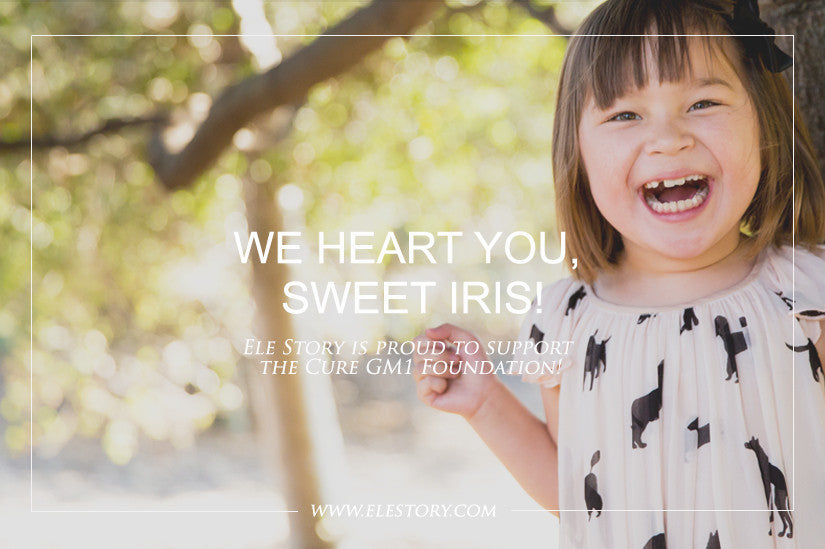 Ele Story is helping to raise awareness about GM-1, a rare, incurable disease that my friend's daughter Iris is fighting against so bravely.  For every "A Girl's Best Pal" dress purchased in the month of February, we will donate $5 to the Cure GM-1 Foundation.
I first met Iris at my little girl's daycare. Iris always had the sweetest, happiest disposition.   Iris' mom, Christine, and I worked together on the same film crew on several animated features at Pixar Animation Studios. I felt an immediate connection with Christine after finding out she and I shared a love for fabrics and sewing. 
Several years later, after I left to pursue Ele Story full time, we stayed in touch loosely, primarily through Facebook.  One day, I saw Christine's gofundme.org campaign to raise money for a cure --and sweet Iris' face was on the cover.  My heart sank. It was surreal, and I had to read it over again just to be sure. I watched the video about Iris' diagnosis, and sobbed. The condition was fatal, incurable, degenerative--and sweet little Iris was diagnosed at the tender age of 5. She has already started to lose her motor skills and speech. How could this have happened to such a sweet and happy little girl who loves to dance and sing? I could not imagine the heartache Christine and Doug must be dealing with.
Instead of wallowing in the sorrow of losing Iris someday, they amazed me by their determination to find a cure for their little girl in the midst of tremendous suffering. In a short time, they created the Cure GM-1 Foundation to help find a cure – not just for Iris alone, but for many others like her. They were relentless in their search and found the best research center at Auburn University to pour research money into. They have already raised a considerable amount of money, but they aren't stopping because they know that without continual funding, their little girl and others like her cannot have hope for a cure.
I reached out to Christine late last Fall and asked to grab tea with her and brought Iris two of our Ele Story dresses – one of them had a horse print as Christine mentioned she loves horses.  Iris loved the dresses – I was so glad that they brought her joy.  We didn't have a lot of time, so I quickly pitched the idea of using Ele Story to help spread awareness. GM-1 Gangliosidosis is a rare disease that few people have even heard of.   I certainly had not prior to finding out about Iris.  Word needed to get out, and quickly – as Iris and other children like her are racing against time.   Christine was genuinely appreciative, and so awe-inspiringly strong through describing her journey. I asked if I could design a piece dedicated to sweet Iris. It had to be really special, like Iris.
For the next few months, I mulled over the design, sketching out pages upon pages of roughs. Looked at swatch after swatch of fabrics.  Nothing really came to me. Then, I stumbled upon an amazing print – black printed dogs, in various forms and shapes, all over a blush pink rayon backdrop.   This is it, I thought – it was perfect—Iris loves animals. I am calling it "A Girl's Best Pal" dress.
We quickly got a sample made for Iris, and just did a photoshoot with her last week – taken by another talented and dear former colleague of ours – Jake. He could not have captured Iris' spirit better. Iris: the sweet, tenacious, strong, joyful little girl who lives life to the fullest.    
February 29th, 2016 is Rare Disease Day all over the world. On this day, 350 million people worldwide affected by rare diseases ask for awareness, treatments, and cures.
"A Girl's Best Pal" dress is dedicated to Iris - for every dress sold in the month of February, Ele Story will donate $5 to Cure GM1 Foundation, a non-profit founded by Iris' parents in an effort to save her life and all those affected by this terrible disease.  
Please join us in sharing Iris' story and in our fight for all those suffering from rare diseases.  
CureGM1Foundation.org
SweetIris.org
   Several months ago, I received a facebook message from an Ele Story FB fan, and the message had such an impact on me that I decided to follow the thread.  She wrote about her friend, Anya, whos...
Read more